Weasel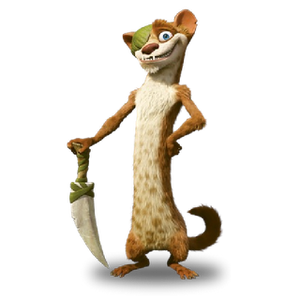 Physical Attributes

Kingdom
Mammalia
Species
Weasel
Height
Approx. 2 ft'
Eye Color
Varying
Fur Color
Varying
Diet
Carnivore

A weasel is a small carnivorous mammal that lived during the ice ages, into the modern day.
Traits
Small, meat-eating mammals, weasels are long and thinly built, with short limbs and often sport long tails. Weasels have short snouts and a good sense of smell.
History
Weasels lived among other animals of the ice age, with one weasel, a male named Buck, ending up in an underground world populated by dinosaurs. They were among the animals to survive into the present era.
Appearances
Known Weasels
Behind the scenes
Buck is most likely a least weasel, because the other weasel species that live in North America (where the movies take place) have some traits that don't fit with the character's ones.
Community content is available under
CC-BY-SA
unless otherwise noted.