Saber-tooth squirrel


Saber-tooth squirrels were small, long-toothed mammals that lived during the ice ages.
Traits
Small, relentless mammals, the saber-toothed squirrel's closest relative was evidently the squirrels common to wooded areas, though the saber-tooth squirrels sported the eponymous namesake of having two long, pointed teeth inside of a long pointed snout as well as two massive eyes and a foxlike tail. Saber-tooth squirrels were one of the less intelligent of ice age creatures, obsessed with their acorns as they were, even willing to follow the paths that brought them to whatever acorns they could gather to their demise. Some saber-tooth squirrels, as it transpired, had the ability to glide in the air, akin to a sugar glider or flying squirrel, though this was a trait that some lacked.
A group of Saber-tooth squirrels resided in the island of Scratlantis. Unlike others of their kind, they walked upright, had opposable thumbs, had no visible tails, wore clothes, and possessed the power of speech.
History
Scrat was perhaps the most prolific of his kind, going through many trials and hardships to take his acorn for himself.
Appearances
Known saber-toothed squirrels
Behind the Scenes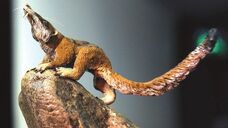 References