Playground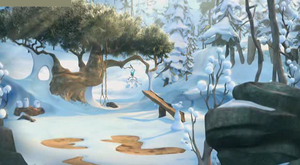 The Playground was "built" by Manny as a project and surprise for Ellie and their baby when he or she was born.
Manny made it clear that this playground was for kids, but Sid allowed his kids into the grounds, which the mammal kids misunderstood for the playground's opening and charged in. Chaos emerged, children were eaten and the site was wrecked.
But by the end of the movie it was rebuilt, with Buck added to the Ice Family Tree.
---
This article is a stub. You can help Ice Age Wiki by expanding it.
---