Nadia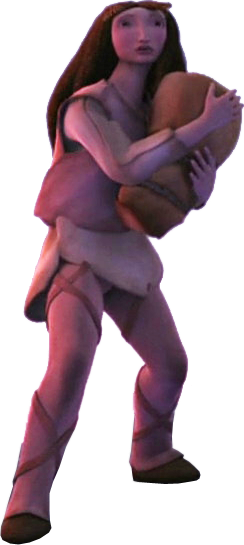 Neanderthal

Gender
Female
Eye Color
Brown
Human Hair color
Dark Brown
Skin Color
Tan
Personality
Loving
Caring
Motherly
Determined
Adventurous
Likes
Runar
Her son
Animals
Dislikes
Saber-toothed tigers
Losing her son

V
Ice Age

Voiced by
Unknown
Quote
{{{Quoteby}}}

Nadia was the wife of Runar, the leader of the Neanderthal tribe, and the mother of the infant Roshan, whom Manny, Sid and Diego take care of throughout the film after the tribe is attacked by Saber-Tooth Tigers.
Biography
In revenge for Runar killing other saber-tooth cats, Soto , the leader of a group of saber-tooth tigers, attacks the tribe in an attempt to steal Roshan for his meal. Nadia is able to rescue him just before Diego snatched him, but is cornered by Diego at the edge of a waterfall. Seeing no other options, she jumps. Injured and exhausted but alive, she swims to the river bank where she meets Manny and Sid. With her last remaining strength, Nadia nudged her son to these animals in the hopes that they could be entrusted with her son before dying.
The scene moves away from her, but it returns a few seconds later showing that she was gone and her exact fate is unknown, but we only know that she sacrificed her life to save Roshan and it is possible that she was swept away by the river.
Appearances
Community content is available under
CC-BY-SA
unless otherwise noted.