Misty Chasm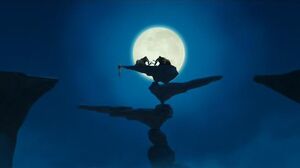 The Misty Chasm was a vast ravine consisting of stone platforms balanced on tower-like rocks.
Description
Manny and his herd, along with Ellie and Crash and Eddie, enter a misty region. Due to a disagreement they had earlier, Ellie kept as far ahead of Manny as she could. The stone platform then splits, causing the herd to cling to the rocks for dear life, and leaving Manny and Ellie to stick together. When Diego yells, "LOCK TRUNKS!", they both refuse at first until Diego tells Manny to apologise for offending Ellie. After Manny refused, Ellie ended up apologising instead, admitting she had over-reacted. When Manny questions this, Diego threatens to push him off. When Sid gets off the rock ride, everyone but Diego escapes. Luckily, the two mammoths save him from plummeting to his doom. For now, it will be called Death Canyon.
Appearances
Community content is available under
CC-BY-SA
unless otherwise noted.