The Ice Age Wiki is an online encyclopedia that anyone can edit, based on the Ice Age series of movies released by Blue Sky Studios. This wiki strives to be a comprehensive reference for the Ice Age franchise including the feature films, animated shorts, movie novels, comics, video games and books. The wiki launched on December of 2008 and now has 731 articles. As you read about the Sub-Zero Heroes' adventures through prehistory, visiting crazy, strange places, and outrageous adventures, we hope this site functions as a fun and informative guide. You can register to keep track of your contributions.
About | COC | Manual of Style | Policies | Chat

WARNING: This wiki contains spoilers. Most have been tagged, but please read at your own risk!
For more information, please view the site's Spoiler policy.
That Dodos became extinct in the 1600s?
that the drawings of the characters at the end credits of the films are made by children of the employees of Blue Sky Studios?
Dynamically changes - refresh me!

March 29, 2022

Official Facebook page announced starting on April 13, Scrat Tales will begin streaming on Disney +.
January 28, 2022

Ivy Silberstein made a formal post on Twitter regarding why Scrat is no longer part of the franchise and its subsequent absence from Adventures of Buck Wild.Ivy was awarded a trademark for her "Sqrat" character designed on May 19, 1999. Ivy claims her character was stolen and repurposed by Blue Sky Studios back in 2002 [first film].
January 28, 2022

Adventures of Buck Wild is formally released on Disney+! Go enjoy! It appears that Disney replaced voice actors for Manny, Sid, and Diego. This likely explains the absence of Peaches and Shira.

January 19, 2022

A new third trailer for Adventures of Buck Wild is revealed!
January 4, 2022

A second trailer for Adventures of Buck Wild is revealed!
November 12, 2021

Ice Age Franchise announces Adventures of Buck Wild film will begin to air on January 28, 2022!
February 9, 2021

Unfortunate news from Blue Sky Studios, the creators of Ice Age. As all are aware, Blue Sky Studios was acquired by 20th Century Fox and later Fox was acquired by Disney. The Studios is being shutdown by Disney. read more here
December 10, 2020

Disney announced a new spin off film set to feature Buck, Crash, and Eddie set for release on Disney Plus in 2022. head more here.
October 11, 2016

Ice Age: Collision Course was released on DVD!
July 21, 2016

Ice Age: Collision Course is officially released in US theaters!
June 16, 2016

A Movie clip involving the Dino-Birds and Buck was released!
May 27, 2016

A Television advertisement has been spotted for Ice Age Collision Course!
May 9, 2016

Two different trailers were released as number 4, version 1 and version 2 for Ice Age Collision Course was released!
April 24, 2016

Minicorn's voice actor was revealed to be Lilly Singh.
March 1, 2016

The third trailer for Ice Age Collision Course was released.

---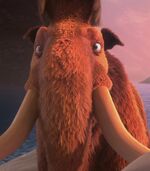 Manfred, known more commonly as Manny, was a mammoth that led a herd of different animals brought together after various adventures and experiences.
Once a devoted father and husband, Manfred loved his wife and child dearly, protecting them well until a band of humans on the hunt came between them. Manny attempted to fend them off but was unsuccessful as his wife and child were killed. This left Manny embittered with the world at large, being cold and indifferent towards other creatures. (Read More...)
Ice Age is a registered trademark of Blue Sky Studios and 20th Century Fox. All text, audio and images are the intellectual property of Blue Sky Studios and 20th Century Fox. This site is not endorsed by or affiliated with Blue Sky Studios, 20th Century Fox or their licencors. The operation of this site is believed to fall under the United States "fair use" copyright laws.
For more information, click here.