Ice Age 2: The Meltdown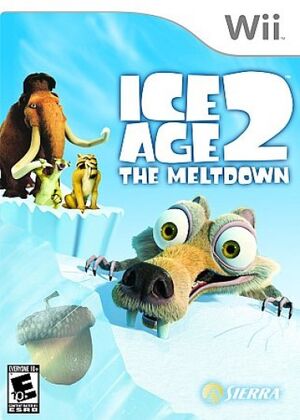 Ice Age 2: The Meltdown is a multi-platform video game based on the movie of the same name. It was developed and released by Vivendi Games for the PlayStation 2, Xbox, GameCube, PC, Nintendo DS, and the Game Boy Advance on March 14, 2006, 17 days before the movie's release. A Wii version was released shortly after the consoles release.
Plot and gameplay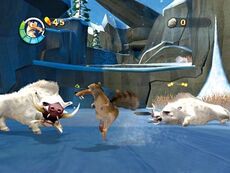 In this game, Scrat (who is the main character) is caught up in the events of the movie and is trying to pursue acorns while interacting with some characters (who are voiced by the original actors who portrayed them in the movie),[1] some of whom help him in his quest. The game starts off by showing the icy areas where it began in the film and moving onto the woods, as well as exploring regions in the games (such as the bowels of Maelstrom and swampy lands). In the game, Scrat occasionally allies himself with some of the main characters, and the player sometimes can play as either Sid, Diego, or Manny. Characters (which were shown as bit parts in the movie) are shown usually as adversaries or (in the case of one, a songbird) a guide to the next nut, even though a select number of foes weren't shown in the movie at all.
Behind the Scenes
The video game was released as the movie's working title Ice Age 2: The Meltdown because its final release wasn't relieved at the time. For its final release, the creators decided to remove the 2, making the movie be called Ice Age: The Meltdown, even though most other countries decided to keep the 2.

This is the first Ice Age video game to be rated E10+ by the ESRB.
Appearances
Characters
Species
Aardvark (DS only)
Bear (First appearance)
Boar (First appearance)

Bojo bird

(First appearance)

Bullfrog

(First appearance)

Butterfly

Cat

(Mentioned only)
Clam (First appearance)

Ear mite

(First mentioned)

Firefly

Instestinal Parasite (First appearance)

Mouse

Parasite

(First appearance)

Porcupine

Spider (First appearance)
Spider Monkey (First appearance)
Locations
Items
Game Cast
See also
References
External Links