Dodo camp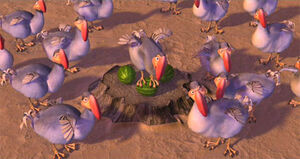 The Dodo camp is a survival training camp populated by Dodos. As well as having plenty of dodos for training, there are also geysers. It is a good place for cooking without a stove, microwave, or fire.
It was a village place for dodos to live and to learn, but unfourtunately they all died.
Dab was defending the melons. It is unknown if this was for teaching dodos about power and/or leadership.
Appearances