Bubble Trouble is an online Flash game that was released on the Ice Age: Dawn of the Dinosaurs website. It is also accessible via the Ice Age 3 Facebook page.
Plot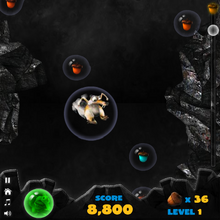 After a fight over an acorn, Scratte gets flung off the cliff. Scrat dives down to save her. Scratte glides down safely while poor Scrat plummets to his doom. Both end up at the bottom of the cliff. Your task is to float up to the surface in a bubble and collect as many acorns as possible.
Gameplay
You can play as either Scrat or Scratte. The player must float up in the bubble by pressing the space bar and steer by using the arrow keys. Bonuses are available by collecting acorns. Each different colored acorn has a different effect.
Hitting the cliff walls or an obstacle will weaken the bubble. To much and the bubble will burst. The player must collect the golden acorn at the surface in order to advance to the next level.
The highest score ever recorded is 9,999,999 on level 3 by "JTG".
The instrumental version of You'll Never Find Another Love Like Mine by Lou Rawls is played in the background.
Next games
Acorn Drop and many other games were released on the site soon after Bubble Trouble.
External links